Party Caucuses Archives: Alberta Caucus
John Barlow is the Member of Parliament for the beautiful riding of Macleod, Alberta. Before being elected to office in 2014, John was serving as the Associate Publisher and Editor for the Okotoks Western Wheel, and had been with them for almost 17 years. He was also the Senior Editor Southern Alberta for Greatwest Newspapers overseeing the editorial departments in four newspapers including Cochrane, Rockyview, Okotoks and Airdrie.
For the past four years John has been a valued member of the Journalism Advisory Boards at Southern Alberta Institute of Technology and Mount Royal University. John has won numerous professional awards including the 2008 and 2009 Telus Excellence in Editorial Awards, 2012 Gordon Scott Memorial Award, Okotoks and District Chamber of Commerce Service Excellence Award and many Alberta Weekly Newspaper Association and Newspapers Canada awards.
John has a passion for community, and before becoming Member of Parliament he served as the vice-president of the Okotoks Rotary Pub Club, chair of the Foothills Highland Games, a member of the Friends of the Junior A Oilers and Okotoks Junior A Oilers board of directors, chair of the High Country Sports Facility Fundraising Society, communications director for the Firefit Games, member of the Okotoks Library Board, and a member of the Alberta Weekly Newspaper Association committee.
John and Louise have raised their three children, Graeden, 23, Kinley 20, and McKenna, 15, in High River and have lived in Okotoks for the past 10 years. Louise grew up in High River where her family owned and operated Highland Bakery and later Ross' Bakery.
Joan Crockatt  was born and raised in Lloy­d­min­ster, Alberta-SK. She holds a Bach­e­lor of Arts degree from the Uni­ver­sity of Saskatchewan and was awarded a Southam Fel­low­ship in Journalism at the Uni­ver­sity of Toronto. She also stud­ied strategic thinking at the Lon­don School of Economics.
Joan is an award-winning polit­i­cal and busi­ness jour­nal­ist with more than 20 years of com­mu­ni­ca­tions and media expe­ri­ence She has worked as a senior news­pa­per exec­u­tive with the Cal­gary Her­ald, Southam news­pa­pers, and Can­west Global Com­mu­ni­ca­tions. She has appeared as a commentator on CBC and SunNews. For the past decade she has been a com­mu­ni­ca­tions con­sul­tant and inde­pen­dent media commentator.
As an active mem­ber of her com­mu­nity, Joan has worked with orga­ni­za­tions that sup­port the arts, women, par­ents, and inter­na­tional aid. She has chaired the Alberta Col­lege of Art and Design's largest fundraiser. She's also vol­un­teered with the Par­ent Sup­port Asso­ci­a­tion of Cal­gary, the Cen­tre for Afford­able Water and San­i­ta­tion, the Lloy­d­min­ster Sex­ual Assault Cen­tre, Cal­gary Chris­t­ian School and the Cal­gary Syn­chro­nized Skat­ing Club, and the Famous 5 Foundation. She has competed as a synchronized figure skater, winning the 1993 Canadian Silver Medal, and the 2003 Canadian Festival Silver Medal.
Joan and her hus­band Peter live in Cal­gary Cen­tre and have two grown children.
Stirling native and Raymond resident Jim Hillyer was elected as the federal representative for the Lethbridge riding on May 2, 2011.
A business consultant, educator and entrepreneur, MP Hillyer holds a B.A Philosophy and an M.A. Political Economy.
During the first session of the 41st Parliament, Jim was assigned to the Standing Committee on Canadian Heritage and the Standing Joint Committee on the Library of Parliament. On February 6, 2012 he was re-assigned from the latter committee to the Standing Joint Committee on Scrutiny of Regulations (REGS). As of October 18, Jim contiues to serve on the Standing Committee on Canadian Heritage (CHPC) and has been reassigned to the Standing Committee on Aboriginal Affairs (AANO).
Jim is married to Livi, the couple has four children: London, Taylor, Nation and Asia.
A Life of Service
Born on Mother's Day, 1947 and raised in Winnipeg, Laurie Hawn joined the Royal Canadian Air Force in 1964 and received his pilot wings in 1967.   In over thirty years in the Air Force, Laurie rose to the rank of Lieutenant-Colonel and served an additional five years as Honourary Colonel of 417 Combat Support Squadron. Laurie held many senior staff positions, commanded a CF-18 Tactical Fighter Squadron and was the Wing Operations Officer at 4 Wing Cold Lake, overseeing the operation of six squadrons, 1,800 personnel, multi-million dollar budgets, and multi-billion dollar assets. He has served in Europe, the United States and throughout Canada.
Upon retirement in 1994, Laurie entered the financial services business.  He successfully opened and managed branch offices and held senior supervisory positions in this highly regulated and demanding industry. Laurie has been very involved in his community, as a lead organizer, volunteer and board member supporting community events, educational institutions and many charities.
Entering Politics
Laurie was politically active for several years and decided, in 2003, that it was time to throw his hat into the ring of federal politics.  After narrowly losing a hard-fought election against Deputy Prime Minister Anne McLellan in 2004, patience and hard work were rewarded on January 23rd, 2006 with a decisive victory over Ms. McLellan, and the opportunity to take a seat in Parliament as the representative of Edmonton Centre.  Re-elected in October 2008 and May 2011, Laurie has been proud to be part of Canada's government as it takes steps to rebuild the military, reduce the tax burden on ordinary working Canadians, improve the accountability of government, crack down on crime, and face economic challenges.
In the 40th Parliament Laurie served on the Standing Committee on National Defence, as well as the Special Committee on the Canadian Mission in Afghanistan.  He also chaired the Special Legislative Committee on Bill C-30, the Clean Air Act, and served on the Standing Committee on Public Safety and National Security.
On October 10, 2007 Laurie was appointed Parliamentary Secretary to the Minister of National Defence, the Honourable Peter MacKay.  In this role Laurie assisted the Minister and provided a link between the ministry and Parliament.  He represented the Minister in the House and at events when the Minister is unavailable. He served in this position until May 25, 2011.
Joining The Privy Council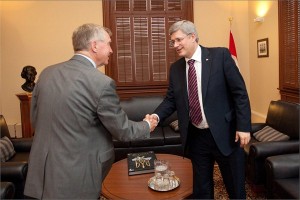 On October 1, 2010 Prime Minister Stephen Harper announced Laurie's appointment to the Queen's Privy Council of Canada, with the swearing-in being the first official act by Canada's new Governor-General, His Excellency David Johnston.
On May 25, 2011 Prime Minister Stephen Harper appointed Laurie to the Treasury Board sub-committee on the Strategic and Operating Review. This unique appointment was a precedent, as previously only Cabinet Ministers were assigned to Cabinet Committees.
On September 13th 2012, Laurie was then appointed to sit on the Treasury Board Cabinet Committee as a full member. This was once again a precedent, as normally only Cabinet Ministers sit on Cabinet Committees.
Laurie was also selected as a Canadian representative and co-chair of the Permanent Canada-United States Joint Board of Defence. Created in 1940, the bi-annual PJBD is the highest-level bilateral forum for the discussion of defence and security issues of concern to both Canada and the United States. For over seventy years, the Board has played a crucial role in fostering critical senior military and diplomatic contact, as well as frank discussion on a plethora of issues affecting continental defence and security.