You are here:
Home
›
Conservative Party of Canada
Party Caucuses Archives: Conservative Party of Canada
Find Current Members of Parliament in the Conservative Party of Canada or search for MPs by their regional caucus
John Barlow is the Member of Parliament for the beautiful riding of Macleod, Alberta. Before being elected to office in 2014, John was serving as the Associate Publisher and Editor for the Okotoks Western Wheel, and had been with them for almost 17 years. He was also the Senior Editor Southern Alberta for Greatwest Newspapers overseeing the editorial departments in four newspapers including Cochrane, Rockyview, Okotoks and Airdrie.
For the past four years John has been a valued member of the Journalism Advisory Boards at Southern Alberta Institute of Technology and Mount Royal University. John has won numerous professional awards including the 2008 and 2009 Telus Excellence in Editorial Awards, 2012 Gordon Scott Memorial Award, Okotoks and District Chamber of Commerce Service Excellence Award and many Alberta Weekly Newspaper Association and Newspapers Canada awards.
John has a passion for community, and before becoming Member of Parliament he served as the vice-president of the Okotoks Rotary Pub Club, chair of the Foothills Highland Games, a member of the Friends of the Junior A Oilers and Okotoks Junior A Oilers board of directors, chair of the High Country Sports Facility Fundraising Society, communications director for the Firefit Games, member of the Okotoks Library Board, and a member of the Alberta Weekly Newspaper Association committee.
John and Louise have raised their three children, Graeden, 23, Kinley 20, and McKenna, 15, in High River and have lived in Okotoks for the past 10 years. Louise grew up in High River where her family owned and operated Highland Bakery and later Ross' Bakery.
Early Life
Larry was born in Souris, Manitoba. Raised by Merle and Fern Maguire, they taught Larry the value of community and the importance of hard work and giving back.
Larry met Beryl while attending the University of Manitoba where he graduated with a diploma in Agriculture. They farmed at Elgin until 2002 before moving to Virden.
They were Mid Canada's Outstanding Young Farmers in 1986.
Giving Back
Always involved in community activities, Larry expanded these efforts to many organizations.
Larry has been:
President of the Western Canadian Wheat Growers from 1995-1999,
Twice elected to the Canadian Wheat Board Advisory Committee (1987-94),
Served two terms on Winnipeg Commodity Exchange as Manitoba's Public Governor,
Executive Member of the Canada Grains Council,
Member of the Keystone Agriculture Producers, while actively helping with many other associations.
The University Of Manitoba Faculty Of Agriculture recognized Larry with a "Certificate of Merit" for outstanding contributions to the agricultural industry.
Called to Serve
First elected as a Progressive Conservative member in 1999, voters have returned Larry to the Legislature in 2003, 2007 and 2011.
He presently is the critic for Conservation and Water Stewardship; with previous responsibilities for Climate Change; Green Initiatives; Infrastructure and Transportation, Inland Port, Finance, Environment, Intergovernmental Affairs (Rural) and as Deputy Leader in 2007.
Larry and Beryl have two wonderful children and now have six grandchildren.
Larry Maguire your Member of Parliament in Brandon-Souris
The job of an MP is often described as being the voice of their constituents in Ottawa. Larry believes that is an important part of the job, but just as important is the role an elected official can play right in their own constituency.
On November 25th, 2013 Larry was elected the next MP for the riding of Brandon-Souris
Joan Crockatt  was born and raised in Lloy­d­min­ster, Alberta-SK. She holds a Bach­e­lor of Arts degree from the Uni­ver­sity of Saskatchewan and was awarded a Southam Fel­low­ship in Journalism at the Uni­ver­sity of Toronto. She also stud­ied strategic thinking at the Lon­don School of Economics.
Joan is an award-winning polit­i­cal and busi­ness jour­nal­ist with more than 20 years of com­mu­ni­ca­tions and media expe­ri­ence She has worked as a senior news­pa­per exec­u­tive with the Cal­gary Her­ald, Southam news­pa­pers, and Can­west Global Com­mu­ni­ca­tions. She has appeared as a commentator on CBC and SunNews. For the past decade she has been a com­mu­ni­ca­tions con­sul­tant and inde­pen­dent media commentator.
As an active mem­ber of her com­mu­nity, Joan has worked with orga­ni­za­tions that sup­port the arts, women, par­ents, and inter­na­tional aid. She has chaired the Alberta Col­lege of Art and Design's largest fundraiser. She's also vol­un­teered with the Par­ent Sup­port Asso­ci­a­tion of Cal­gary, the Cen­tre for Afford­able Water and San­i­ta­tion, the Lloy­d­min­ster Sex­ual Assault Cen­tre, Cal­gary Chris­t­ian School and the Cal­gary Syn­chro­nized Skat­ing Club, and the Famous 5 Foundation. She has competed as a synchronized figure skater, winning the 1993 Canadian Silver Medal, and the 2003 Canadian Festival Silver Medal.
Joan and her hus­band Peter live in Cal­gary Cen­tre and have two grown children.
Bob Zimmer was born in Dawson Creek, BC and raised in Fort St John, BC.  He received an undergraduate degree from Trinity Western University in human kinetics and history/political science.  Bob also obtained a bachelor's of education degree from the University of British Columbia.  He worked his way through University as the head coach for Langley's TWU varsity rugby team.
Bob taught and coached at North Peace Secondary School in Fort St John where his experience assisted in developing a unique course that teaches young people practical skills applicable to the oil and gas industry.
In his earlier years, Bob began his career working for his father's family carpentry business where he learned the values of honesty, integrity and hard work.  Through these fundamentals Bob obtained his Journeyman Carpentry Certification.  Bob went on to own his own construction business. And he has also built several homes.
Being involved with federal politics for more than 20 years, Bob became politically active in 1988 when he desired to seek change in Ottawa. He has worked alongside former MP Randy White and former Leader of the Government in the House of Commons Jay Hill, serving the local Conservative riding associations of Abbotsford and Prince George-Peace River in various leadership roles, including Vice-President, President, and Secretary/CEO.
Bob was elected as the Member of Parliament for Prince George-Peace River in 2011 and is currently Chair of the BC/Yukon Caucus, Chair of the BC Pipeline Caucus, and sits on the Agriculture and Agri-Food Standing Committee, as well as the Standing Committee for Veterans Affairs.
Bob and his wife Val reside in Fort St John where they have been happily married for 17 years and have 4 children, Kristian, David, Tim and Bobbie.
Mike is a graduate of the University of Guelph, majoring in Economics and Political Science. He moved to Burlington with his wife Caroline in 1987 and they have two daughters, Ashley and Lindsay. Mike was elected to Burlington City Council in 1994 and re-elected in 1997, 2000 and 2003, building a reputation for hard work, straight talk and dedication.
While on Council he worked hard to develop the Paletta Lakefront Park, the Appleby Ice Centre, bring a multi-level parking facility to downtown and to lay the groundwork for a Performing Arts Centre for Burlington – a project that he is still passionate about today. He is a community volunteer and has participated on numerous local and regional boards and committees. Personally, Mike is very much interested in the environment, specifically clean water and clean air.
Mike was nominated as the candidate for the newly-formed Conservative Party for the 2004 federal election running against a long-time Liberal incumbent. In the 2006 federal election Wallace defeated the incumbent and now represents Burlington in the House of Commons. Mike was re-elected again in 2008 and 2011.
A Strong Voice For Northern Ontario
Greg Rickford was born on September 24, 1967 in Paris, Ontario.
Instilled with the values of hard work and public service from a young age, Greg has earned degrees in common and civil law from McGill University, and an MBA from Laval University.
Those values brought Greg to the remote First Nations communities of Northern Ontario were he worked as a nurse and lawyer.
Greg's experience lead him to understand the large and remote riding of Kenora needed a strong voice in Parliament or face being further isolated.
Running in his very first election, Greg made improving economic and infrastructure conditions for First Nations in the area one of his central campaign themes.
Greg was the first Conservative MP ever elected in the 84-year history of the Kenora riding winning by just over 2000 votes against the incumbent Member of Parliament.
A Strong Voice in the House of Commons
During his first term, Greg served as a member of the House of Commons Standing Committees on Aboriginal Affairs and Northern Development, and Access to Information, Privacy and Ethics.
Greg was also elected by colleagues from all parties to chair the All Party Tourism Caucus for the 40th Parliament.
Recognizing Greg's leadership and strong voice for Northern Ontario, Prime Minister Stephen Harper appointed Greg to become Parliamentary Secretary to the Minister of State for Official Languages On August 30, 2010.
Just six months later the Prime Minister made Greg the Parliamentary Secretary to the Minister of Indian Affairs and Northern Development.
Greg Rickford Re-Elected
On May 2nd, 2011, Greg asked voters in the federal riding of Kenora if they would re-elect him to be their strong voice in Ottawa.
The voters showed their confidence in Greg and increased his vote by 20%.
The Prime Minister shares their confidence, re-appointing Greg as theParliamentary Secretary to the Minister of Aboriginal Affairs and Northern Development, while also appointing Greg as the Parliamentary Secretary for theCanadian Northern Economic Development Agency (CanNor), and for theFederal Economic Development Initiative for Northern Ontario (FedNor).
This means Greg is currently the Parliamentary Secretary to Ministers' Aglukkaq, Clement, and Duncan.
Despite his added responsibilities Greg continues to be a strong voice for Northern Ontario in the House of Commons.
Pierre Poilievre is a 34-year-old Minister of State (Democratic Reform) and four-term Conservative Member of Parliament for Nepean-Carleton. His purpose, principle, policy, past and present alliterate what you need to know about him.
Purpose
To expand freedom, so each can take responsibility for their life, strive for success and own their destiny.
Principle
To allow space for this freedom, government must only do what people cannot do for themselves.
Policy
Leave money in the hands that earned it, not with the government that taxed it;
Allow freedom of association for workers;
Deliver more of our public services through free enterprise and competition;
Trade more with other free countries and stand with them against tyrants and terrorists;
Make our institutions – including the Senate – accountable to citizens.
Past
After defeating the incumbent Liberal Defense Minister in the 2004 election, Poilievre has since been re-elected four times.
On the Hill
As Parliamentary Secretary to the Treasury Board President (2006-2008), he helped stick-handle the Federal Accountability Act through the House of Commons. As Parliamentary Secretary to the Prime Minister (2008-2011), he was the caucus lead on the Conservative Party's 2011 election platform, where he pushed for spending reductions, less red tape for small businesses and tax fairness for families with a stay-at-home parent.
As Parliamentary Secretary to the Transport Minister (2011-2013), Poilievre launched a new House committee study on how competition and private sector investment can lower the costs and improve the quality of our roads, bridges and other infrastructure.
In the Community
Some of his best ideas have come from the people he represents.
In 2005, he took the idea of a Children's Fitness Tax Credit from an Osgoode farming family to Stephen Harper who campaigned on and implemented it.
It was also in Osgoode that he met Jim Duquette. The Army Major left to serve the Canadian Forces in the Middle East just days after the birth of his son. He returned to learn his parental benefits under EI had expired while he was serving overseas, depriving him of the chance to spend time with the son he had not seen in a year. Major Duquette learned that, according to the rules, he could have deferred his benefits for the purpose of serving a prison sentence, but not for the purpose of serving in a Canadian Forces mission.
Poilievre fixed this injustice, with the Fairness for Military Families Act. It allows soldiers to defer their parental leave until after they return from military missions, giving them precious time off with their small children.
As a leading voice for the future Strandherd-Armstrong Bridge, Poilievre has landed one-third of the project's needed investment. Construction is now well underway as a result. He also secured the neighbouring airport land required for the Limebank Road expansion.
Present
Appointed Minister of State (Democratic Reform) on July 15, 2013, Minister Poilievre is working hard towards strengthening our democracy.
The Barrhaven resident holds a Bachelor of Arts from the University of Calgary.
Ben Lobb was first elected to the House of Commons in 2008.  He was sworn in as the Member of Parliament for Huron—Bruce on October 30th, 2008.  He was re-elected again in May 2011.
Ben is currently a member of two Standing Committees, Health and Veterans Affairs.  Ben is the former chair of the Government Auto Caucus and is also a member of the Rural Caucus.  He has also been a member of the standing committee on Human Resources, Skills, Social Development and the Status of Persons with Disabilities, Public Safety and National Security and Agriculture and Agri-Food.
Prior to entering politics, Ben worked at Wescast Industries in Wingham, Ontario for seven years and as a Cost Analyst and Purchasing Manager for Desire2Learn.  He also worked for as an auctioneer for his father's company, Richard Lobb Auctions founded in 1965.
Ben attended Central Huron Secondary School in Clinton. Upon graduation from CHSS he attended Lee University in Cleveland, Tennessee, where he received his Bachelor of Science in Business Administration, Cum Laude.
Ben is married to Andrea Lobb.  They reside in Holmesville
Randy Kamp grew up in Maple Ridge, B.C. and graduated from Maple Ridge Secondary in 1971. He went on to complete a Bachelor's degree in theology and do extensive graduate studies in linguistics. From 1985 to 1992, he and his family lived in the Philippines where Randy was regional director for an organization doing linguistic work among minority language groups. Randy has also worked as a department store manager and administrative pastor and has served on the board of directors for a number of non-profit groups. He has also volunteered for a number of local community organizations. The common thread through Randy's life is his commitment to serving people.
In 1997, Randy was hired as the executive assistant to Grant McNally, who served Dewdney-Alouette as the Member of Parliament from 1997 to 2004. In that role, Randy got a first hand view of the everyday problems facing people in Pitt Meadows, Maple Ridge and Mission and when McNally retired, he was inspired to run for Parliament to make Canada an even better place in which to live and to make government more responsive and relevant to the people living in our communities.
On June 28th, 2004, Randy was elected as the Member of Parliament for Pitt Meadows – Maple Ridge – Mission. In his first term, Randy was quickly promoted to the position of Official Opposition Critic for Fisheries and Oceans on the Pacific Coast. He was also elected Chair of the Conservative Crystal Meth Task Force and took a leading role in the fight against crystal meth, an insidious drug that is invading our communities at an alarming rate.
On January 23rd, 2006, Randy was re-elected to the House of Commons.  On February 7, 2006, Prime Minister Stephen Harper appointed Randy as the Parliamentary Secretary to the Minister of Fisheries and Oceans, a position which he still holds.  Randy was re-elected in 2008 and 2011. After the 2011 election, in addition to his Fisheries and Oceans duties, Randy was appointed as the Parliamentary Secretary for the Asia-Pacific Gateway.
Randy has been married to his wife Ruth since 1974. They have three adult children, twelve grandchildren and a basset hound named Bentley.
Stirling native and Raymond resident Jim Hillyer was elected as the federal representative for the Lethbridge riding on May 2, 2011.
A business consultant, educator and entrepreneur, MP Hillyer holds a B.A Philosophy and an M.A. Political Economy.
During the first session of the 41st Parliament, Jim was assigned to the Standing Committee on Canadian Heritage and the Standing Joint Committee on the Library of Parliament. On February 6, 2012 he was re-assigned from the latter committee to the Standing Joint Committee on Scrutiny of Regulations (REGS). As of October 18, Jim contiues to serve on the Standing Committee on Canadian Heritage (CHPC) and has been reassigned to the Standing Committee on Aboriginal Affairs (AANO).
Jim is married to Livi, the couple has four children: London, Taylor, Nation and Asia.
Bryan Hayes moved to Sault Ste. Marie with his wife Aida, a Sault native 33 years ago after graduating with honours from the Marketing program at Cambrian college. Bryan and Aida have 2 sons, Kevin and Brandyn both university graduates residing in Ottawa. He spent much of his childhood travelling around communities in Canada and the world as his father served in the Canadian Forces for 36 years.
Bryan has been a successful small business owner, Finance Manager for 10 years for Ontario March of Dimes and a senior Financial Analyst at Ontario Lottery and Gaming for 12 years, during which time he also served on city council for 8 years where he initiated and chaired the city's Finance Committee. He has been an active participant on many boards, including the District Social Services Administration Board, the Sault and Area Hospital Board of Directors and the Economic Development Corporation as well as chairing the 2000 United Way Campaign to name but a few.
During this time, he also completed is BA in Accounting from Laurentian University and attained his CGA designation from the Certified General Accountant's Association.
Elected to the House of Commons on May 2nd 2011, Bryan is proud to be Sault Ste. Marie`s federal representative in Ottawa. In this role, Bryan works with the Government House Leader to ensure the conservative election platform promises are delivered. That platform includes initiatives that will get tough on crime, strengthen Canada's economy, and work for the equality of all Canadians, and in particular, his constituents.  Bryan is currently on the House of Commons Standing Committee for Public Accounts as well as the Standing Committee on Veterans Affairs.  He is also Chair of the National Steel Caucus along with the National Border Caucus.
A Life of Service
Born on Mother's Day, 1947 and raised in Winnipeg, Laurie Hawn joined the Royal Canadian Air Force in 1964 and received his pilot wings in 1967.   In over thirty years in the Air Force, Laurie rose to the rank of Lieutenant-Colonel and served an additional five years as Honourary Colonel of 417 Combat Support Squadron. Laurie held many senior staff positions, commanded a CF-18 Tactical Fighter Squadron and was the Wing Operations Officer at 4 Wing Cold Lake, overseeing the operation of six squadrons, 1,800 personnel, multi-million dollar budgets, and multi-billion dollar assets. He has served in Europe, the United States and throughout Canada.
Upon retirement in 1994, Laurie entered the financial services business.  He successfully opened and managed branch offices and held senior supervisory positions in this highly regulated and demanding industry. Laurie has been very involved in his community, as a lead organizer, volunteer and board member supporting community events, educational institutions and many charities.
Entering Politics
Laurie was politically active for several years and decided, in 2003, that it was time to throw his hat into the ring of federal politics.  After narrowly losing a hard-fought election against Deputy Prime Minister Anne McLellan in 2004, patience and hard work were rewarded on January 23rd, 2006 with a decisive victory over Ms. McLellan, and the opportunity to take a seat in Parliament as the representative of Edmonton Centre.  Re-elected in October 2008 and May 2011, Laurie has been proud to be part of Canada's government as it takes steps to rebuild the military, reduce the tax burden on ordinary working Canadians, improve the accountability of government, crack down on crime, and face economic challenges.
In the 40th Parliament Laurie served on the Standing Committee on National Defence, as well as the Special Committee on the Canadian Mission in Afghanistan.  He also chaired the Special Legislative Committee on Bill C-30, the Clean Air Act, and served on the Standing Committee on Public Safety and National Security.
On October 10, 2007 Laurie was appointed Parliamentary Secretary to the Minister of National Defence, the Honourable Peter MacKay.  In this role Laurie assisted the Minister and provided a link between the ministry and Parliament.  He represented the Minister in the House and at events when the Minister is unavailable. He served in this position until May 25, 2011.
Joining The Privy Council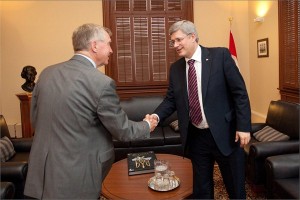 On October 1, 2010 Prime Minister Stephen Harper announced Laurie's appointment to the Queen's Privy Council of Canada, with the swearing-in being the first official act by Canada's new Governor-General, His Excellency David Johnston.
On May 25, 2011 Prime Minister Stephen Harper appointed Laurie to the Treasury Board sub-committee on the Strategic and Operating Review. This unique appointment was a precedent, as previously only Cabinet Ministers were assigned to Cabinet Committees.
On September 13th 2012, Laurie was then appointed to sit on the Treasury Board Cabinet Committee as a full member. This was once again a precedent, as normally only Cabinet Ministers sit on Cabinet Committees.
Laurie was also selected as a Canadian representative and co-chair of the Permanent Canada-United States Joint Board of Defence. Created in 1940, the bi-annual PJBD is the highest-level bilateral forum for the discussion of defence and security issues of concern to both Canada and the United States. For over seventy years, the Board has played a crucial role in fostering critical senior military and diplomatic contact, as well as frank discussion on a plethora of issues affecting continental defence and security.
On May 2011, Hon. Bal Gosal was elected to the House of Commons as the Member of Parliament for Bramalea- Gore- Malton and appointed as a Minister of State (Sport).
Minister Gosal moved to Canada in 1981 initially residing in British Columbia. In 1983, Minister Gosal and his wife Pawanjit moved to Brampton where they have raised their three children born in Brampton Jasmin, Sanjot, and Priya.
Minister Gosal has made significant contributions to the community in Brampton both as a soccer dad and through his community involvement. His widespread involvement includes the Peel Region Police Services Board, the Ontario Film Review Board, Brampton Board of Trade Marketing Committee, Peel Children's Aid Society Board of Directors, William Osler Hospital foundation South Asian Round Table, Safe City Association Board, and City of Brampton Property Standards Committee.
Minister Gosal has served as the Treasurer and founding member of the Ontario Federation of Sports and Cultural Organization. He was also a Director, past Secretary, and Treasurer of the Ontario Khalsa Darbar Sports and Cultural Centre. In addition, Minister Gosal volunteered at the Brampton YMCA, acting as a director of Regional Council, and involved in the creation of the new Brampton YMCA building.
Minister Gosal has a Bachelor of Science degree and a Stationary Engineer 4th class Certificate. In 1984, he joined McDonnell Douglas Canada. In 1994, he joined Prudential Insurance as a financial advisor, which later became London Life. In 2004, he became associated with Goodison Insurance and Financial Services in downtown Brampton and in 2008 he became associated with Rai Grant insurance brokers as he built a successful business in the Brampton community as an Insurance Broker and a Financial Security Advisor.
As a Minister of State for Sport, Gosal helped promote, and advance the mission of Sport Canada, which is to enhance opportunities for all Canadians to participate and excel in sport. He did so by developing federal sport policy in Canada, providing funding programs in support of sport, and by working together with partners to advance sport initiatives. The Government of Canada is the single largest contributor to sport in Canada, and is committed to promoting a culture of sport and physical activity
Minister Gosal has supported our athletes during the 2011 Pan and Parapan American Games in Guadalajara, Mexico, and the London 2012 Olympic and Paralympic Summer Games in addition to numerous national and international sport events hosted in Canada.
In 2015, Canada will welcome the Americas for the Pan and Parapan American Games in Toronto. To ensure these Games are a success, the Harper Government will make a significant investment in sport capital projects. In addition to giving our athletes the opportunity to compete in state-of-the-art facilities, this investment will leave a lasting sport legacy for Canadians for years to come, while bringing economic prosperity throughout the Greater Toronto Area.
Minister Gosal's involvement in the Brampton community reflects his philosophy and belief of giving back to the community by increasing public safety, creating a secure community for our children, lowering taxes for our hard working families, and working towards a strong health care system.  This continues to be his philosophy as the Member of Parliament for Bramalea-Gore-Malton. As Minister of State for sport he recognizes that promoting sport and other types of physical activity are good for the mind, the body, the soul, and that an active lifestyle leads to longer, healthier and happier lives.
Gary Goodyear was first elected to the House of Commons in 2004 and was re-elected in 2006, 2008 and 2011. He served as Minister of State for Science and Technology from 2008 to 2013. In August 2009, he was named Minister of State responsible for the Federal Economic Development Agency for Southern Ontario (FedDev Ontario) by Prime Minister Stephen Harper. He was re-appointed to FedDev Ontario in 2011 and again in 2013.
Prior to entering federal politics, he practiced chiropractic medicine and worked as an advisor to investment firms in the biomedical industry.
A former Public Relations Director and Past President of the College of Chiropractic Sports Sciences in Toronto, Dr. Goodyear taught at the Canadian Memorial Chiropractic College and the University of Waterloo. He was co-designer of a three-year post-graduate sports fellowship program and co-author of "Practice Guidelines." He has worked with many athletes, both amateur and professional, and served as medical services chair of the Ontario Special Olympics.
Dr. Goodyear attended the University of Waterloo, specializing in kinesiology and psychology, before graduating from Canadian Memorial Chiropractic College. He worked his way through university as a meat packer and labourer.
A native of Cambridge, Ontario he is married to Valerie and they have two children. He enjoys scuba diving, writing and rebuilding motorcycles.
Robert Goguen, a native of Moncton, New Brunswick has over 25 years of experience practicing law in the areas of corporate and commercial law, bankruptcy and insolvency law, civil litigation and personal injury law. Fluently bilingual in both of Canada's official languages, he studied at the Université de Moncton.
Prior to his election, Robert was a partner at Actus Law— a firm which assists and guides individuals through many of life's challenges. The Actus Law firm supports numerous charitable organizations in the area. Active in the community himself, Robert has been a board member of Moncton Headstart Inc. for 10 years, and served as President for 5.  He is also a past President of Enterprise Greater Moncton and has served as President of the Progressive Conservative Party of New Brunswick, Past President of the Moncton-West/Riverview Rotary Clubs, in January 2000, that awarded him a Paul Harris Fellowship and Past President of Moncton Elks Club 229.
He previously served as Chair of the Canada Pension Plan Review Tribunal in New Brunswick and throughout Canada. Robert has lectured at the Bar Admission course in the areas of Bankruptcy and Insolvency Law, Corporate and Commercial Law and Civil Litigation, and has been the course leader in the Bankruptcy and Insolvency course at Mount Allison University as well as Université de Moncton.
On May 2nd, 2011, the people of Moncton – Riverview – Dieppe elected him as their Member of Parliament in the House of Commons.
On May 25th, 2011, Robert was appointed Parliamentary Secretary to the Minister of Justice and Attorney General of Canada.  With a desire to make his community a safer place to live and raise a family, Robert intends to be an advocate for community safety.  Robert and his wife, Lori Lynn, have three daughters.   In his free time, Robert is a passionate sports fan and an animal lover. He enjoys spending time with his dog Brandi and his cat Marley.
Parm Gill immigrated to Canada at a young age with his family, and resides in Brampton with his wife Amarpal, his two sons, Raman and Daman, and his daughter Parmeet. After completing his studies Parm became involved in a family business. He was first elected to the House of Commons in May 2011 and was appointed Parliamentary secretary to the Minister of Veterans Affairs in September 2013. Parm has served on a number of Standing Committees including Canadian Heritage, Public Safety and National Security, Health, and Procedure and House Affairs.
The safety and security of our most vulnerable citizens is a priority for Parm. For this reason, in February of 2012, Parm introduced his Private Members Bill, Bill C-394, entitled: An Act to Amend the Criminal Code and National Defence Act (Criminal Organization Recruitment). This Bill received full support from the Conservative Government. Bill C-394 passed the House of Commons on May 1st, 2013. The aim of the Bill is to protect our youth from being targeted by gangs, and making our streets, communities and neighbourhoods safer by providing our law enforcement officers and justice officials with additional tools to address the growing concern of gang recruitment head-on.
Parm believes in making our community safer for our children, respecting taxpayers, keeping our government transparent and continuing to make our economy one of the strongest and most stable in the world. Parm continues to be one of the hardest working individuals in politics, striving to contribute to a community and a country that respects the rule of law, economic strength, equality for all, and support for new Canadians. Parm makes it a priority to establish strong ties with all parts of his community through outreach initiatives – striving to be the best representative for the community as a whole and working to resolve the issues that affect Canadians. Parm believes he has a duty to provide the best results for each constituent he represents.
Parm has been heavily involved in our community in support of many wonderful organizations such as the Peel Regional Police, Toys-for-Tots, Amar Karma Organ Donation Society, the Salvation Army, Family Life Resource Centre, Canadian Cancer Society, Champions 4 Change, and the Canadian Eye Sight International.
Parm holds a conception of Canada that is based on providing the best for our citizens. He wants to continue to focus on the economy as we enter our second phase of recovery – to fight for lower taxes for our job-creators and continue to reduce unemployment and increase job growth. Brampton is one of the fastest growing cities in the country and Parm believes, with hard work and dedication, we can continue this trend by providing opportunities and financial security for our residents.
Parm was elected by the great people of Brampton-Springdale and looks forward to working alongside his constituents as we move forward together.
Conservative Trailblazer
Cheryl Gallant is an experienced member of the new generation of leadership that Canada has come to expect from Canada's Conservative Government.  In the 2000 general election, Cheryl was one of two Canadian Alliance MPs elected in the Province of Ontario, breaking an electoral stranglehold by another party that had held parts of Renfrew County for close to 70 years.  She has the distinction of being the first female elected, federally or provincially to high office for the County of Renfrew.
Prior to winning elected office, Cheryl Gallant was the Chief Administrative Director in a family-owned small business/professional practice with her spouse Jamie. Cheryl and Jamie have four daughters.
Active in her community as Chairperson of the City of Pembroke Downtown Development Commission, Cheryl witnessed first-hand the effects of excessive taxation on small business. As a member of the Economic Advisory Committee for the City, she sought to bring jobs to her community and re-vitalize the downtown core.
Cheryl's values are rooted in small town Ontario where she was raised and educated and has lived all her life. In 1980, Cheryl was presented the Gold Standard of the Duke of Edinburgh Award by His Highness Prince Phillip, for her leadership skills, service to the community and excellence in physical fitness.
Cheryl Gallant attended the University of Western Ontario, successfully graduating with her Bachelor of Science in Chemistry. She did post-degree work in biochemistry, toxicology, pharmacology and environmental chemistry. She worked at the University of Toronto doing research in biochemistry. Prior to relocating to Pembroke, Cheryl was a group insurance executive with a major Canadian life insurance company.
Cheryl Gallant in Parliament
As an MP, in addition to previously serving as Deputy House Leader of the Official Opposition, Cheryl has served her constituents as a member on a number of standing committees of the House of Commons including National Defence and Veteran Affairs, Industry, Science and Technology, Canadian Heritage and Procedure and House Affairs. As a permanent member of the Defence Committee, Cheryl has had the privilege of travelling to Afghanistan to Support Our Troops.
Currently, in addition to serving on the Defence and Industry, Science and Technology Committees, Cheryl was elected Chair of the Canadian-NATO Parliamentary Association, traveling abroad representing Canada capacity in the NATO Assembly.
Cheryl Gallant is a strong defender of rural Canada and individual rights, including the right to own and enjoy private property. As the M.P. for Renfrew-Nipissing-Pembroke, Cheryl believes in community service. Never one to back away from a challenge, Cheryl is a team player and a veteran member of the Conservative Government. Cheryl Gallant has played an effective role to bring the benefits of having an MP in Ottawa who cares about all the people of Renfrew-Nipissing-Pembroke.
Barry Devolin was first elected as the Conservative MP for Haliburton-Kawartha Lakes-Brock in June 2004 and re-elected in January 2006, October 2008, and May 2011.
Devolin has served the 40th and 41st Parliaments as an Assistant Deputy Speaker and Deputy Chair of the Committees of the Whole. He has also served as Co-chair of the Canada Korea Inter-parliamentary Association, and Government Liaison with the Korean Community since 2006.
During the 39th Parliament, Devolin chaired the Standing Committee on Aboriginal Affairs and Northern Development and also sat on the Standing Committee for Immigration and Citizenship, and Agriculture and Agri-food.
During the 38th Parliament, Devolin served as Critic for the Minister of State for Human Resources and Skills Development and sat on the Standing Committee for Human Resources, Skills Development, Social Development and the Status of Persons with Disabilities.
From 2000 to 2004, Devolin ran a consulting business in Toronto specializing in strategic planning and communications. During the early 1990's, Devolin served as Director of Research for the Reform Party of Canada. In the late 1990's, he served as Special Advisor to the Premier of Ontario and as Chief of Staff for 2 provincial cabinet ministers.
From 1996-98, Devolin and his wife Ursula lived in South Korea where he taught English as a Second Language at the Busan University of Foreign Studies.
As a student, Devolin pursued an education in political science. In 1984, Devolin received a Bachelor's Degree from Carleton University in Ottawa. In 1987, he received a Master's Degree from Stony Brook University in New York.
While in high school, Devolin was selected as a Rotary International Exchange Student and spent a year in the Netherlands in 1979-80.
Devolin married Ursula Beachli in 1993. They have two children: George (2002) and Molly (2004). The Devolins have homes in Ottawa and Haliburton, Ontario.
John Duncan has lived in British Columbia his entire life.  He was raised in the Crows Nest Pass, Kamloops and North Vancouver. He graduated from the University of British Columbia with a Bachelor of Science from the Faculty of Forestry in 1972.
After graduation, John worked in the BC coastal forest industry. He has lived and worked in Duncan, Nanaimo, Port Alberni, Ucluelet, Port Clements, Sayward, Courtenay and Campbell River.
John has been involved in many community level volunteer activities; Chair of the Chamber of Commerce, Chair of the Recreation Commission, Head of the Logger Sports, and President of the Historical Society which has given him a keen understanding of local priorities and issues in Coastal communities.
John was first elected to the House of Commons in 1993 and has remained committed to serving our region. In 2008, John became Parliamentary Secretary to the Minister of Indian and Northern Affairs and Northern Development.  In August 2010, he was appointed Minister of Indian Affairs and Northern Development, Federal Interlocutor for Métis and Non-Status Indians, and Minister of the Canadian Northern Economic Development Agency. In 2011 he continued his appointment as Minister but under the new title of Minister of Aboriginal Affairs and Northern Development until February 2013. In July 2013, John was appointed as Minister of State and Chief Government Whip.
Throughout his career John has always been, and continues to be, motivated by his commitment to public service and to serve the constituents of Vancouver Island North.
Royal Galipeau was first elected to the House of Commons in 2006 to represent Ottawa–Orléans.  In October 2008, he was re-elected, the first Conservative MP in 136 years to win back-to-back elections in this constituency.  His family has been involved in community life and local politics for four generations.  As such, he has inherited a genuine concern for public service and advocating for the betterment of his community.
As a child, Royal helped his uncle, Joseph-Édouard Galipeau – a Cumberland Township councillor – bale hay on his Mer Bleue Road farm, South of Innes Road. Omer Lacasse Avenue is home to 25 family families in Queenswood Heights.  The late Mr. Lacasse also was a Cumberland Township Councillor, and Royal's maternal grandfather.  Lamoureux Drive was named by Cumberland Council to honour Royal's great-grandmother.
Mr. Galipeau was himself elected as a citywide councillor for Gloucester in 1982.  During his term of office, he was instrumental in launching the city's first corporate strategic plan, which later was lauded by the province of Ontario as a model for other municipalities. Another achievement of which he is proud is the designation more than 25 years ago of 200 hectares south of Innes Road as commercial and industrial land.  This was intended for "future" employment centres in Ottawa–Orléans. Always active in the community, Mr. Galipeau was appointed in 2001 by the Council of the newly amalgamated city of Ottawa as trustee of the Ottawa Public Library, where he focused on the protection of children from Internet pornography on library computers.  This was a hard battle, but after two votes, he succeeded on April 30, 2003.
In 2004, he was the only trustee of the previous term to be reappointed by City Council.  Then, he was twice elected as vice-chair of the Board. He also championed the opening of the School of Information Studies at the University of Ottawa – a first in 35 years! In addition, he has served seven years on the Ottawa–Carleton Regional District Health Council, helping prepare with Mr. Justice Jean-Pierre Beaulne a workable policy for the delivery of minority language health services in Ottawa.  He has also served two terms as a director of TVOntario, where he participated in the TFO implementation team. Most recently, Mr. Galipeau has spent three years as a member of the East-West Light Rail Transit Corridor Environmental Assessment Committee.
In April 2006, he was elected as a deputy speaker of the House of Commons.  He was re-elected in October 2007, unopposed. In the 39th Parliament, he also served as Co-Chair of the Canada–Russia Parliamentary Group, a position that he shared with Russian parliamentarian (and hockey legend) Vladislav Tretiak. In the 40th Parliament, he was re-elected as Co-Chair of the Canada–Arab World Parliamentary Association.  He also is the Vice-Chair of the Senate and House of Commons Joint Committee on the Scrutiny of Regulations. In Ottawa–Orléans, his focus remains the establishment of a technology transfer centre to generate economic spin-offs from the untapped intellectual property of the National Research Council.
A steadfast family man, Royal Galipeau has been married to Anne Pallascio for 36 years.  They have four community-minded children, three sons and a daughter.
Steven was first elected to the House of Commons in 2004 in the west Winnipeg federal riding of Charleswood-St. James-Assiniboia.  He was re-elected in 2006, 2008 and 2011 with increasing margins.
After being first elected in 2004, he was appointed the Official Opposition Critic for Health and was a member of the Standing Committee on Health. During his time as health critic, Steven championed compensation for the "forgotten victims" of Hepatitis C.  He also worked with other parties to dramatically reduce trans fats from the Canadian Food Supply.
In June 2005, Steven championed a motion in Parliament calling on the government of the day to "fully fund and implement the Canadian Strategy for Cancer Control" and "immediately develop an initiate a comprehensive national strategy on mental illness, mental health and heart disease".
In 2006, Prime Minister Stephen Harper formed Government and appointed Steven to the position of Parliamentary Secretary to the Minister of Health. Following through on Steven's 2005 motion, the newly elected Conservative Government moved to fully fund and implement the Canadian Strategy for Cancer Control, establish the National Mental Health Commission and the national framework for Cardiovascular Disease.
After the 2008 election, Prime Minster Harper appointed Steven to Cabinet as Minister of State (Democratic reform). In the weeks following the 2011 election, Mr. Fletcher was appointed Minister of State (Transport).
Steven is a recipient of the National Cancer Leadership Forum's (NCLF) inaugural Award for Outstanding Individual Leadership (2006) and the Canadian Cancer Society's Courage and Leadership Award (2006). He is also a recipient of the Champions of Mental Health award (2006) for his work in raising awareness for Mental Health.
Steven has been inducted into the Terry Fox Hall of Fame (2005), received the King Clancy Award (2004), is the recipient of her Majesty's Golden Jubilee Medal (2003) for his contributions to Canada and received the Christopher Reeve Award from the Canadian Paraplegic Association (2010).
Prior to his election, Steven worked as an engineer in the mining industry until an automobile collision with a moose left him a quadriplegic, paralyzed from the neck down. He returned to university where he obtained a Master's in Business Administration (MBA).
Steven has a Bachelor in Science degree in Engineering (B.Sc.GE) from the University of Manitoba.  He is also the first permanently disabled Canadian to be elected to the House of Commons.
He was born in Rio de Janeiro, Brazil, in 1972, and he lives in Headingley, Manitoba.
A biography of Steven's life titled "'What Do You Do If You Don't Die?' The Steven Fletcher Story" was written by Linda McIntosh and released in the fall of 2008.
Diane Finley was first elected to Parliament in 2004 and re-elected in 2006, 2008 and 2011.
In July 2013, Ms. Finley was appointed Minister of Public Works and Government Services. Previously, she was appointed Minister of Human Resources and Social Development in February 2006, Minister of Citizenship and Immigration in January 2007 and Minister of Human Resources and Skills Development in October 2008.
Ms. Finley began her professional career as an administrator at the University of Western Ontario's French Immersion School. Prior to her election, she held several senior positions in both the public and private sectors encompassing health care, transportation, agricultural equipment manufacturing, printing and publishing, and aviation. In addition, Ms. Finley has been active with a number of organizations, including the Brant Community Care Access Centre, the National Standards Committee of the Paramedic Association of Canada, the Ambulance Service Alliance of Ontario, the Ontario Government Health Policy Advisory Council, and the Thyroid Foundation of Canada.
Ms. Finley has a bachelor's degree in administrative studies and a master's in business administration from the University of Western Ontario.
Harold Albrecht is a proud lifelong resident of the riding of Kitchener-Conestoga. He attended Waterloo-Oxford District Secondary School and Waterloo Lutheran University (now Wilfrid Laurier University), before going on to the University of Toronto; attaining his Doctorate of Dental Surgery (DDS) in 1973. He returned to Waterloo Region, opening a dental practice and operating it successfully for 27 years.
Before entering public service, Harold was an active member of the community, both locally and globally.  He served as a Trustee for the Waterloo County Board of Education from 1978 to 1982, and as Chair in 1981-82. He was founding Pastor at Pathway Community Church in south Kitchener, and served there for six years.
In remote parts of Honduras and the Dominican Republic, Harold lent his professional skills to numerous relief efforts organized by the Christian Medical-Dental Society. Far too often, these visits by nurses, surgeons, dentists and opthamologists would provide the only medical service a village could access for months. Other international service assignments brought him to diverse countries such as Venezuela, Colombia, Zambia, Nepal, and India.
Harold was first elected to the House of Commons in 2006, narrowly defeating incumbent Lynn Myers. In the subsequent election of October 2008, Harold was re-elected with 49.2% of votes cast. In November of 2008, Prime Minister Stephen Harper named Harold Deputy Government Whip, and re-appointed him subsequent to the May 2nd 2011 election.
In January 2013, Harold was unanimously elected Chair of the House of Commons' Standing Committee on the Environment and Sustainable Development.
Harold is active in a number of Caucuses devoted to facilitating better understanding of specific sectors and causes. These include the Auto Caucus, the Energy Caucus, the Rural Caucus, and the Pro-Life Caucus. Harold also founded the Bio Caucus and is a co-founder of the Post-Secondary Education Caucus and the Parliamentary Committee on Palliative & Compassionate Care. He is also Chair of the Canada-Armenia Parliamentary Friendship Group and the Chemistry Caucus.
Harold is the father of 3 married children and 9 grandchildren. He lives in Kitchener with his wife Darlene.
Mark Adler was elected as the Member of Parliament for York Centre on May 2, 2011. He is the first child of a Holocaust survivor to ever be elected as an MP. He is a member of the House of Commons Finance Committee and Transport and Infrastructure Committee and actively represents York Centre residents in the community and in Ottawa. By sitting on the Finance Committee Mark is able to directly affect government spending through taxation and budgetary legislation, and thus help to improve the economies of both the riding and Canada as a whole. As a Transport Committee member, Mark is concerned primarily with all areas covered by Transport Canada and Infrastructure Canada, including infrastructure funding under the Building Canada Plan, the Infrastructure Stimulus Fund and the Green Infrastructure Fund; airport security; ports policy; inter-provincial trucking; the National Highway System; airline mergers and railway safety.
Mark is also the Co-Chair of the Canada-Russia Parliamentary Friendship Group, the Chair of the Canada-Kazakhstan Parliamentary Friendship Group and the Co-Chair of the All-Party Interfaith Committee.
Motivating him to best represent York Centre in Parliament are the strong personal ties that Mark has with the area. He was born and raised in the York Centre community and attended Anthony Road Public School, Dufferin Heights Junior High and William Lyon Mackenzie Collegiate Institute.
Mark attended the University of Toronto and the Graduate School of Public Administration at Carleton University, Mark worked as a trade representative for Ontario's Ministry of Industry, Trade and Technology in Boston, Massachusetts and then as Director of Corporate Programs with the Canadian Institute of International Affairs, where he led delegations of influential Canadian businessmen to various countries to meet with world leaders and decision makers.
Mark is also an accomplished author, penning a series of publications on the topic of cross border shopping, which earned him acclaim within the industry. Through these works, Mark looked to educate and inform Canadians regarding opportunities to save money on regularly purchased items.
Mark's passion for public affairs and economic issues led him to establish a business in Toronto in 2003. He founded The Economic Club of Canada, which became the leading Canadian public affairs and speaker's forum for business, national, and international issues. Since its inception, the Club has attained a reputation for being the podium of record, where members and guests are able to come face-to-face with the most important, relevant, and influential leaders of our time. As President and CEO, Mark has been instrumental in attracting speakers of the highest calibre, such as Senator John McCain, Prime Minister Stephen Harper, Governor Arnold Schwarzenegger, Wayne Gretzky, President Bill Clinton, former US Ambassador to Canada, David Wilkins and Chief Justice of the Supreme Court of Canada, Beverley McLachlin.
Mark lives in York Centre with his wife Alison, and their two children Ethan and Isabelle. Mark and his family are active members of the Bathurst Jewish Community Centre as well as the Beth Jacob and Beth Emeth synagogues.
Mark is also a member of the International Council of Jewish Parliamentarians (IJCP), a partner organization of the World Jewish Congress (WJC). The IJCP is committed to uphold the principles of democracy, further the cause of human rights and promote the rule of law.